About Us
Ringley's success would be impossible without our passionately committed team. We expect 5 star service so first we must look after our people. We recruit for emotional intelligence and commit to developing our people to be the best they can be be. Overwhelmingly, our people confirm that whatever their future journey is, Ringley has made a difference in their lives.
Our KPI to become an 'employer of choice' was spectacularly realised when at our 2012 company day all new recruits stood up and confirmed they'd heard/believed…. and therefore. 'chose' Ringley.
Better still the results confirmed that 89% of our people thought whatever their future journey Ringley had made a difference to them.
Established in 1997, the name Ringley was an anagram of our founders names. Our distinctive logo came later in 2001 and is a hi-bred of the RICS lion and the home bird; which bought with it a deeper meaning that just seemed to fit.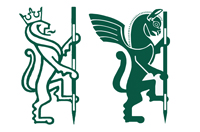 Homa bird – the Persian symbol of fame and fortune which dates back some 2,500 years brings with it the mythical story that whomsoever alights will have fame and fortune. The homa bird combines the body of a lion, mane of a horse, eye of an eagle and ear of a deer; these represent courage, strength, vision and listening.
The 1993 Act was pivotal. We saw a future where Leaseholders could expect service, not just transactions. We wanted to be 'reassuringly better' and transparent in all our dealings. By 2003 it seemed natural to write up '100 percent transparency, just ask' as our brand promise. Initially our mission was 'to become a one stop property shop', naturally this required a team of related property professionals. By 2010 we'd achieved this so we re-wrote our vision as 'good advice, great service, by brilliant people.... Every time'. So in short our mission was simply 'to generate recommendations' this has stood proud 7 ft high in reception since.
Right from the start we had always looked to recruit people who we could imagine giving up their time to visit granny. To us this meant respect, listening and learning which became our core values and in 2010 introduced a 'money back guarantee'.
By 2011 we'd received some 9 awards including a World Skills National Training Award. We ring the bell at our cheese and wine events to celebrate incremental successes; we use the 'net promoter' score as our reality check and enjoy awarding our spot prizes when our people are recognized for delivering service that exceeds exceptions.
Our journey continues. We strive to become a five star company. Currently, we think we're about four stars, our journey continues and there's still work to do as we drive our guiding principles into every part of Ringley and manage talent.
The Board continues to drive our guiding principles into every part of Ringley so we truly live our values. In January 2012 we launched a commitment to devolving significant Ringley Group decision making to Property Managers and 'paid Champion roles'.
We offer a comprehensive range of property solutions including surveys, valuations, legal services, property/facilities management and sales and lettings. We're based in Camden Town, London NW1. Our managed portfolio covers 300 blocks in England, this represents just under 10,000 properties and we spend over £11 million each year on maintenance and refurbishment, preferring to restore than replace. We've been repeatedly recognised for our CSR and green approach to business.
Our Vision, Mission, Values & Brand Promise
Vision:
Good advice, Great service by Brilliant People Every Time!
Mission:
To lead the market, generate recommendations, be known for giving clear, sound advice and delivering creative property management solutions.
Values
Add value:
We appreciate others, value different perspectives, listen to our customers and encourage our people to find new ways to create value for them.
Build Relationships:
We provide customers with 'answers that matter' & strive to develop relationships that make a difference. We say what we believe & do what we say. We accept personal responsibility & treat the company's reputation as our own.
Take the initiative:
We always seek to improve ourselves & our customer delivery. We step up, reach out, pitch in & do what it takes to meet & exceed customer expectations. We celebrate initiative, reward success & provide everyone with the tools to grow & excel.
Money Back Guarantee
The Ringley Group Promise: 100% transparency.
Our Service commitment is your guarantee:
We guarantee to treat you with respect, provide advice that builds trust and not to give you the need to question our integrity. Therefore, if you are unhappy with the service you receive from us, rather than the procedures, rules and law our professional bodies require us to follow not 3rd party contractors we will give you your money back.
For customers of our Estates Team:
If you are a new Client and are not happy with our service after six months, we'll help you move to a new Managing Agent and give you £500 for any inconvenience.
For Management Company Directors, if you believe we've not met our service commitment to you or the Board as an entity, we will refund you the whole of the management fee you as an individual paid us in the relevant quarter. This amount will be credited to the client account for the site.
For customers of our Professional Services Team:
If you believe we've broken our service commitment we will refund you the proportion of the relevant fees for the job stage we let you down on.
For customers of our Agency Team:
If you believe we've broken our service commitment we will refund you the finders fee, letting management fee or agency fee you paid us in the relevant quarter.
How to call upon our guarantee:
If you feel our service has failed you, you must report this to us, in writing, within 14 days of a specific incident or service failing. This will give us the opportunity to refund your money and investigate properly so we can make any necessary process or service improvements for the future. Service concerns will be benchmarked against the scope of service or service level agreement as appropriate. It gets better, just for raising an issue we will send you a £10 M&S Voucher to thank you for giving us the opportunity to improve, that's a meal or a night in on us. You should write to The Chairman, Ringley Group, Ringley House, 349 Royal College Street, London NW1 9QS

Got to www.complainringley.co.uk to see our key senior personnel